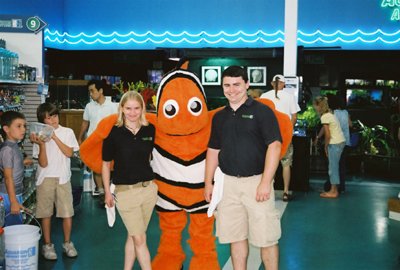 We are looking…..for the Best!
Our incredible staff is the backbone of our success. They care about you and your aquarium and take pride in what they do. Our Staff members are well trained, knowledgeable and professional. They learn sophisticated aquatic husbandry skills, and are taught to use and promote them while they eagerly share their expertise and practices with you. They work hard to help ensure your success.
Training never stops at Aquarium Adventure. We learn new things every day. We not only learn about fish and the systems that help them thrive, we study and test the products that we suggest to you. We use these products in our store and in our own aquariums. We are not interested in "just selling". We are interested in your success. We listen carefully to evaluate your situation. We strive to meet your needs and to exceed your expectations. Our goal is to help you gain a better understanding of aquatic life and enjoy having a living ecosystem in your home or business. If your desire is to just sit back, enjoy and relax in front of an aquarium or beside pond or water garden, our expert Service Team can take care of everything for you.
Aquarium Adventure's staff includes Marine Biologists, Senior Aquarists and Species Specialists, who are fish hobbyists and have been learning and keeping specific types of aquatic life successfully for very long time. There are many extraordinary associates on our crew. They are family, friends, teachers, students, parents, designers, contractors, and more.